CUSTOM WEIGHTLIFTING PLATFORMS
New or replacement weightlifting platforms for your weight room.
American Platforms all-rubber weightlifting platforms are made to fit new or replace
your old weightlifting platforms.
GET YOUR QUOTE NOW
CHOOSE YOUR PLATFORM
REPLACE YOUR WEIGHTLIFTING PLATFORMS
High School and University coaches are replacing old and tired weightlifting platforms with new and sleek, all rubber weightlifting platforms from American Platforms. Using our custom weightlifting platform system with custom logos makes replacing old platforms, or simply adding new weightlifting platforms to your weight room easy and affordable.
Hi, my name is Ryan Martin and I'm the head Offensive Line Coach and Head Strength and Conditioning Coordinator here at McKinney High School in McKinney, Texas. I just wanted to share with you guys, just a quick bit of information about American Platforms. These guys came in and big installed 24 weightlifting platforms for us within the past week. The first two things that I noticed immediately was one, it immediately became a safer environment in this weight room. 
We had the four inch Power-Lift Platforms in here. They looked great, they served well for a very long time, but over that period of time, this is just a way to think and the old traditional platforms took up way too much space in this room. Lots of kids tripping and stuff like that with the old platforms, and these American Platforms seem almost completely laid into the floor. 
It is so much better for us to use these new weightlifting platforms and so much safer for our kids to be able to maneuver around. Everything we do in here is done with a very high tempo and high pace. And so when our kids are transitioning from station to station running around, this pretty much eliminates the trip factor that we had in the past. Oh. And the second thing, which might be the biggest thing for us is the, the sound level. Installing these new weightlifting platforms have reduced our sound level at a tremendous rate. We're able to sit in here and actually coach our kids instead of having to scream in their ears the entire time. They are now being able to hear us over the music, over the whistle. With so many different things going on when weights are banging around in here, when we're dead lifting, with more power cleaning, when we're just lifting heavy weight, it's nowhere close to as loud as it was in the past. Coaches love it. Kids love it. You guys need to invest your money in this company. They're doing big things.
How American Platforms Helped
Schools are responsible for the conditioning, performance, and safety of several student athletes, which creates demand on the weight room and other conditioning resources. Professional weight room design maximizes the use of the space and resources available with key equipment like weight lifting platforms.
GET QUOTE NOW
"Our platforms allow us to serve a lot of athletes, allowing us to do several things, like strength training, plyometrics, speed training and have multiple athletes working at the same time." Coach Skinner - Lamar High School
WEIGHTLIFTING PLATFORM OPTIONS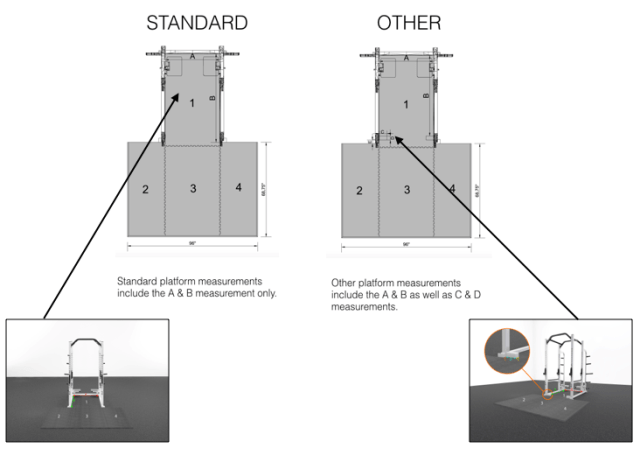 It's easy to get your new weight lifting platforms to fit your rack. Simply measure the inside dimensions of your rack and provide to us for quoting and production.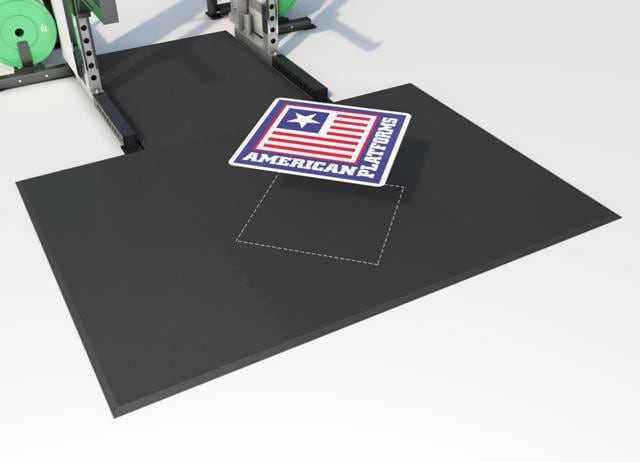 Add your logo or mascot to your new all rubber weightlifting platform. We can match your logo design and colors to give you and your team the perfect look and feel.
WHAT IS THE DIFFERENCE IN OUR WEIGHTLIFTING PLATFORMS AND OTHERS?
American Platforms are USA made and all rubber, with less than a 19 mm (3/4") height. Our Titanium Series is manufactured with vulcanized rubber and beveled edges where exposed. Other manufacturer's platforms are 2" to 3" in height and only have a front-mounted transition to your base floor when purchased. American Platforms reduce sound and vibration by more than 50%, whereas the competition doesn't. Compare our pricing with the others, you will be glad you did.
"AMERICAN PLATFORMS ™ have been great to work with and they understand what is needed in the weight room. They are our choice for weight room equipment, weightlifting platforms, flooring, and accessories."Geno Pierce, CEO - Performance Course